Security Guard Shot in Armored Car Heist at Hustler Casino, California
Guard shot, another injured
Gunmen shot one security guard and injured another in an ambush on an armored car at Hustler Casino in Gardena, California.
The suspects waited in the parking lot as the armored vehicle made a cash delivery to the casino on Thursday morning. The Gardena Police Department responded to the scene at around 10:09 am, as the law enforcement agency later shared via Facebook: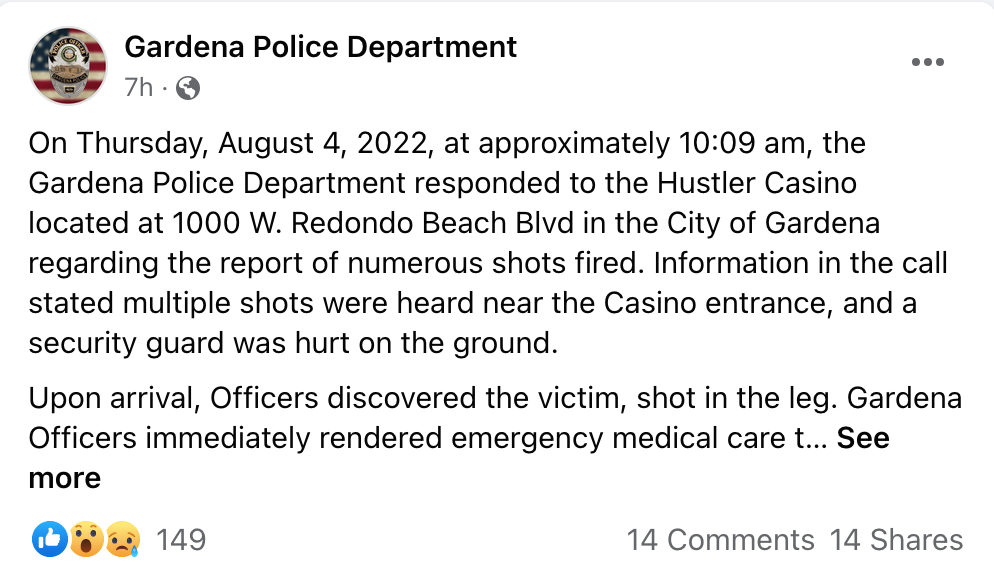 Gardena PD officers arriving at Hustler Casino on West Redondo Beach Boulevard gave immediate emergency medical help to the security guard shot in the leg. According to CBS Los Angeles, responders took the wounded guard to hospital in critical condition but he "was expected to survive." The second guard sustained "cuts and multiple lacerations."
they were met with gunfire."
Gardena PD's District One Lieutenant, Christopher Cuff, stated that as soon as the guards exited their armored vehicle "they were met with gunfire." He also told the Los Angeles Times the suspects were armed with handguns "and at least one rifle."
Cuff confirmed the suspects escaped with an unknown amount of money.
Dramatic events
According to the call made to police, witnesses heard multiple gunshots near the entrance to Hustler Casino. The guards and the gunmen engaged in a shootout, which caused the armed robbers to flee without entering the casino.
According to the Times, the Gardena casino was open during the shootout, with several witnesses taking cover inside the building. One of the suspects then supposedly barricaded themself inside the Moose Lounge next door to the casino.
At approximately 12:10pm, riot police surrounded a building close to Hustler Casino. SWAT police used flash bangs and a drone to try to flush anyone out. After no one emerged, law enforcement concluded that no suspects remained inside.
The total number of suspects was not clear but, according to Cuff, there were three at minimum. Witnesses failed to detail much description of the gunmen other than that they were wearing dark-colored clothes.
According to the Gardena PD, its detective bureau is in the early stages of investigating the Hustler Casino case.
A terrifying experience
The dramatic shootout impacted several adults and children nearby. As reported by CBS LA, Philip Chavez was walking his dog when the shootout started. He told the paper on Thursday: "I'm still shaking."
make sure the kids were safe"
Pre-kindergarten teacher Alaysha Howard was conducting a class just across the street from the gunfight. "I was just trying to make sure nobody come over here […] Tried to hide out over here and make sure the kids were safe."
The post Security Guard Shot in Armored Car Heist at Hustler Casino, California appeared first on VegasSlotsOnline News.