Twitch Streamer Xposed Has Meltdown After Losing $850,000 in 35-Minute Blackjack Session
The dangers of high stakes
In the world of Twitch, gambling streamers such as Trainwreck and Roshtein are known for securing huge multimillion-dollar wins. But like any gamblers staking large amounts of cash, these streamers also suffer their fair share of soul-crushing losses. One streamer by the name of Xposed has just highlighted the dangers of those high stakes.
I'm going to start getting stupid here"
The Canadian streamer, otherwise known as Cody Burnett, took to Twitch last night to complete a bonus hunt on online slots. When that session proved unsuccessful, Burnett took his balance of around $558,000 to the blackjack tables, announcing: "Well this return wasn't good enough, so I'm going to start getting stupid here. You guys like stupid."
This set the scene for the next 40 minutes of high-stakes play where he managed to increase his balance to around $850,000 before ultimately, and predictably, losing the lot. Throughout the last 35 minutes, Xposed appeared to have a full-blown meltdown in front of his followers.
Breaking down the breakdown
The trouble started for Xposed after he secured a huge win on the Stake blackjack table. "This is the biggest hand of my f***ing career right here," the Canadian stated after staking $165,000 in total. The dealer busted to secure Xposed a $370,000 win, bringing his balance to a high of $848,562.
When certain followers told him to quit while ahead, 'Codeman' replied: "I'm not getting out. I want every f***ing drop back." Perhaps he should have listened as, in just the next hand alone, Xposed lost $115,000 when the dealer hit 21. It was a sign of things to come, with the next 35 minutes featuring a great deal more losses than wins.
I'm gonna blow it all"
So began the meltdown, with Burnett's behavior becoming more and more erratic as his account balance dwindled. After losing another $165,000 in one hand, the streamer threw multiple items from his desk across the room, declaring: "I'm gonna blow it all. We're losing it all. No way dude."
Burnett's breakdown reached new heights when his balance dwindled to just $103,000. Angry that his phone had run out of battery, the frustrated gambler yelled into the camera before throwing the device towards the wall behind him. Of course, he proceeded to lose once more, prompting him to desperately label the game "such a scam."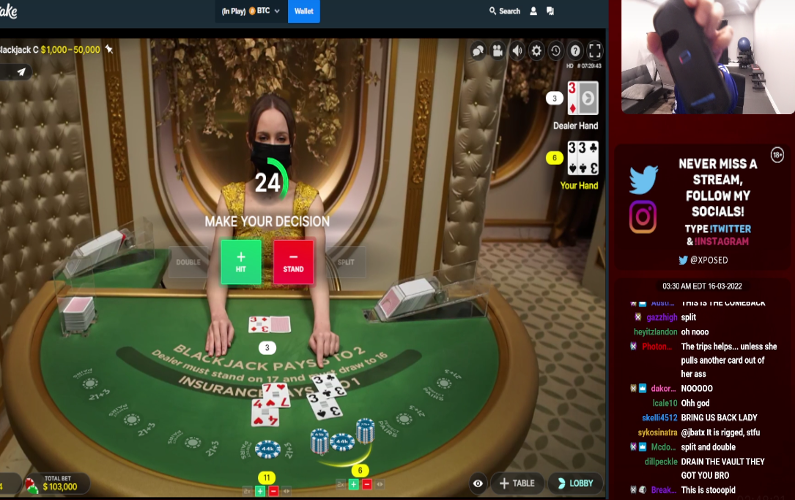 It all eventually became too much for Xposed after placing one final bet of $115,000. When the dealer's 18 trumped his two hands, the streamer casually picked his desk chair up before throwing it at the camera, ending the stream as well as his tragic night.
Problem gambling and transparency
There are multiple issues with the behavior of Xposed in last night's stream, none more so than the clear problem gambling behavior on display. The streamer lost control and gambled away almost $850,000 in less than 40 minutes, chasing his losses continuously while only worsening his situation.
lying about their losses
Another issue often raised regarding slot twitch steamers is their lack of transparency. Last month, gambling streamer Tyler Niknam, otherwise known as Trainwreck, called out some of his peers for lying about their losses. He took particular aim at Roshtein, who supposedly recently won two staggering slot jackpots of $9.5m and $16.5m in just one 12 hour session.
Niknam has also called out streamers for making fake money deals with gambling firms, meaning they only pretend to gamble with their own cash. In a Twitter rant from September last year, the Texan said: "How can streamers get viewers hooked when they themselves aren't taking the same s**t risk they want to expose others to."
Before he ventured to the blackjack table last night, in between the claims that he intended to "get reckless," Xposed did actually provide a morsel of truth. He said: "This does happen you guys sometimes when you gamble and you lose. You start raging and you start getting stupider and stupider. Hope it doesn't happen to me tonight, but it might. Take some notes if it does."
Ultimately, it did happen to Xposed, and it's important that his followers take note of the consequences on clear display. If you need any help with problem gambling, please visit VegasSlotsOnline's responsible gambling page.
The post Twitch Streamer Xposed Has Meltdown After Losing $850,000 in 35-Minute Blackjack Session appeared first on VegasSlotsOnline News.